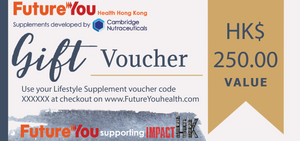 FutureYou Cambridge Blue 250.00HK$ Gift Voucher
FutureYou Cambridge gift vouchers make great presents for a number of reasons. If you still aren't sure what to get for the special people in your life, our gift cards are the best choice.
FurureYou Cambridge gift vouchers are flexible for that special person receiving them, allowing him or her to choose which lifestyle supplements supports their day to day lifestyle.

FutureYou Cambridge Lifestyle supplements support not only vegan and vegetarian dietary requirements, food intolerances to Gluten and Lactose and general health and wellbeing. So no matter what their lifestyle is FutureYou Cambridge has a supplement for them.

Order your gift voucher now and we will give you an additional 10% value perfect for that special gift.
Blue 250.00HK$ Gift Voucher
PLEASE NOTE:
When you have purchased a gift card, you will receive the voucher including a special exclusive code. It can later on be used by the receiver in our online store at www.FutureYouhealthHK.com.
The gift card is received as a PDF that can be printed out or e-mailed.
Note that the gift card cannot be exchanged for money.
VOUCHERS MUST BE USED WITHIN 1 YEAR OF PURCHASE DATE.