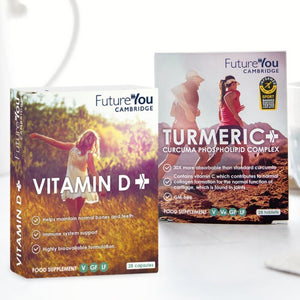 Winter Vitality Collection
Pack size: 2 x 28 capsules and tablets
(28-day supply)
The Winter Vitality Bundle combines our best selling Turmeric+ which contains vitamin C, along with our popular Vitamin D+ to support your immune system as well as your bones and joints.
1 x Turmeric+
1 x Vitamin D+
Product information
Turmeric+
Turmeric+ contains our patented combination of curcumin and soy lecithin, making it 30x more absorbable than ordinary turmeric. Our best-selling supplement, Turmeric+ increases the body's absorption of curcumin by mimicking the natural action of eating turmeric with food.
30x more absorbable than standard turmeric
Includes Vitamin C, which contributes to normal collagen formation for the normal function of cartilage
Helps maintain normal muscle function after high-intensity exercise
Scientifically researched and

  Informed-Sport Certified
More information on Turmeric+
Vitamin D+
Vitamin D+ contains 25 micrograms of vitamin D3 (500% NRV or your daily recommended intake), combined with sunflower oil and new capsule technology to increase 'bioavailability' so it's easy to absorb.
Helps to maintain normal bones and teeth
Supports your immune system
An easy-to-absorb formulation
More information on Vitamin D+
Directions
Vitamin D+ - take one capsule per day
Turmeric+ - take one tablet per day
For optimal use, we recommend taking the products together at the same time every day.

Ingredients
Turmeric+ Ingredient
Per tablet
%EC NRV*
Curcuma Phospholipid Complex
of which Curcumin
500mg
100mg
N/A
N/A
Vitamin C
20mg
25%
Vitamin D+
Ingredient
Per capsule
%EC NRV*
Vitamin D3
25µg
500
* Nutrient Reference Value
Turmeric+: Curcuma Phospholipid Complex - (Soy) Lecithin, Microcrystalline Cellulose, Curcuma longa Extract; Bulking agents: Microcrystalline Cellulose, Dicalcium Phosphate Dihydrate; Citric Acid Anhydrous; Anticaking agents: Polyvinylpolypyrrolidone, Silicon Dioxide, Glyceryl Behenate; Sodium Croscarmellose; Ascorbic Acid (vitamin C); Coating agents: Hydroxypropyl Methylcellulose, Cellulose, Acetylated mono-and di-Glycerides
Vitamin D+: Sunflower Oil; Silicon Dioxide; Vitamin D3 (Cholecalciferol solution); Capsule shell: Hydroxypropyl Methylcellulose, Red Iron Oxide, Yellow Iron Oxide, Titanium Dioxide

Food supplements should not be used as a substitute for a varied and balanced diet or a healthy lifestyle. If you are pregnant, breastfeeding, taking any medication or under medical supervision, please consult a doctor or pharmacist before taking supplements. If you suffer any adverse reaction whilst using a supplement, discontinue use and consult your doctor. Keep out of reach of children. Allergens are highlighted in bold within the ingredients list.

When it comes to food supplements one size doesn't fit all, so we can't guarantee success for everyone. If you are not 100% happy please contact our Customer Care team, who can arrange help to find an alternative that works for you.